1. Download the BYOND client from www.byond.com
2. Install the BYOND client onto your comp by double clicking on byond_setup.exe file.
3. Once BYOND is installed on your comp start up BYOND.
4.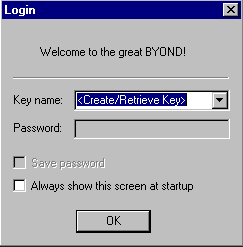 When you open up BYOND for the first time the login screen should come up, which you can see above. Select Create a new key and click ok. Another window will come up in that window select Create a new key then click next. Fill out all the information on the next screen and then click finish. A window should pop up that says " The Blacksmith hands you a newly minted key."
5. Once you have your keyname and are logged in you are ready to connect to the game.

In the upper left corner of the BYOND client there are 4 buttons, click the button that says Hub. This will connect you to the Byond Hub which is where all the games you can play are listed. Scroll through the game listing until you find DBZ-Spar. Click on DBZ-Spar and you will be brought to another page with some info on DBZ-Spar. Click on the link that says Login here! This will connect you to the game, upon connecting for the first time the game will have to download so be patient while it is downloading. Once its done downloading you are free to play. =)